Soumick Chatterjee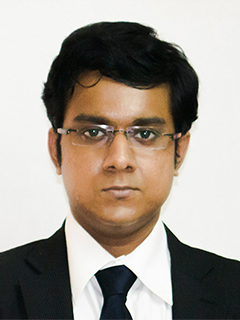 M. Sc. Soumick Chatterjee
OVGU:ESF:MEMoRIAL

Universitätsplatz 2, 39106 Magdeburg, G09-408
2023
2022
2021
2020
2019
2018
2017
2016
Completed projects
Use of prior knowledge for interventional MRI (OvGU:ESF:MEMoRIAL M1-p4)


Duration: 01.01.2018 bis 30.06.2022

This project aims at the reconstruction of dynamic time series from almost acquisitions.
Typically, these are almost acquisitions of lower quality (eg wrt resolution, contrast, or artefacts) to slower scans with higher resolution; At the sametime we know that the object is primarily left apart from potential non-linear deformations and the presence of an interventional tool (eg a needle).
Consequently, a lot is known about the object.
This project aims to include available prior knowledge, and perfrom undersampled MR reconstruction using Deep Learning.
09/2022

07/2022
01/2018

PhD dissertation defence: Reducing Artefacts in MRI Using Deep Learning: Enhancing Automatic Image Processing Pipelines
Research assistant at the Data and Knowledge Engineering Group
PhD Research Fellow at the OVGU: ESF Graduate School: MEMoRIAL

07/2017

Joined as a Research Associate at Infymax Solutions - Chatbot, Hospital Automation

05/2017

Master's Major Project: Text Classification using SVM enhanced by Multithreading and CUDA

08/2015

Commencement of Masters in Computer Science from St. Xavier's College Kolkata India

11/2013

Bachelor's Major Project: Data Hiding in Images - A steganographic approach

12/2010

Launch of Supernova Techlink - a software startup based in Kolkata, India - worked part-time during undergraduate study, followed by full-time as the co-founder and chief software architect

08/2010

Commencement of undergraduate study: Bachelor of Computer Application at Punjab Technical University India